CaterpillHERs New Cohort With 11 Women-Led Social Enterprises Takes off
On Jan 7th, 2021, CaterpillHers Cohort II, in partnership with Miller Center for Social Entrepreneurship was kickstarted with 11 women-led enterprises from five cities of Pakistan.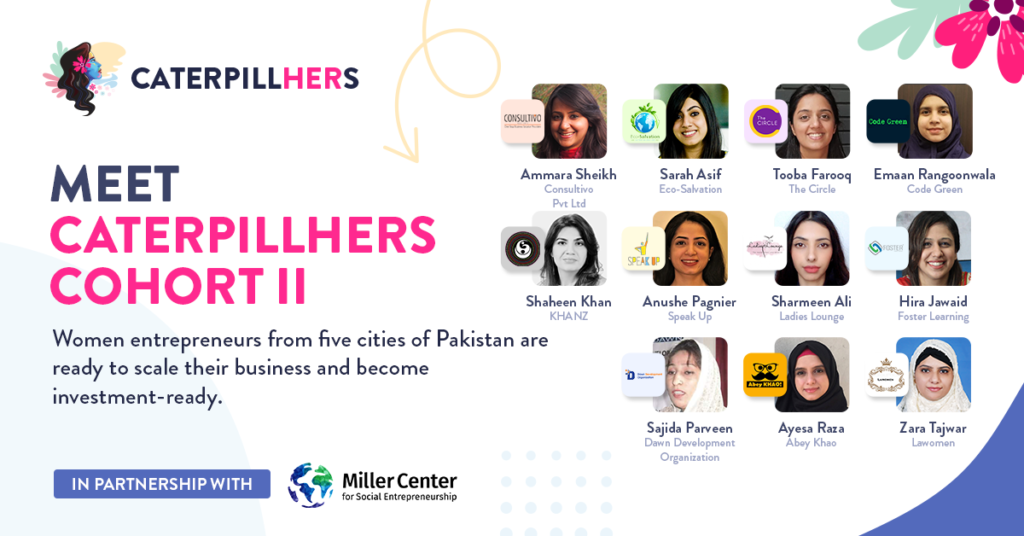 The program is also supported by the Advancing Women's Empowerment Fund (AWEF), an activity under The White House-led Women's Global Development and Prosperity (W-GDP) initiative among the Aspen Network of Development Entrepreneurs — ANDE, the Visa Foundation, and USAID — US Agency for International Development.
On top of Miller Center's structured curriculum and advisory network, the women entrepreneurs will also be receiving,
1:1 high-touch mentorship sessions with local and silicon valley mentors
Customized content through a series of office hours, based on in-take surveys that took into consideration the specific challenges faced by women entrepreneurs.
1:1 executive leadership coaching provided by Linda Keegan and Susan Pohl.
The curriculum is also addressing the impact of COVID-19 on their businesses recommending best practices to navigate the pandemic.
Over the course of 12 weeks, our primary goal is to build the capacity of 11 women-led businesses and maximize each organization's opportunity to attract capital. The vetted curriculum by Miller Center provides a clear understanding of having a solid impact model, business model, financial plan, scaling and growth with their justifiable ask. After 12 weeks, enterprises will also be presenting their businesses in a virtual showcase.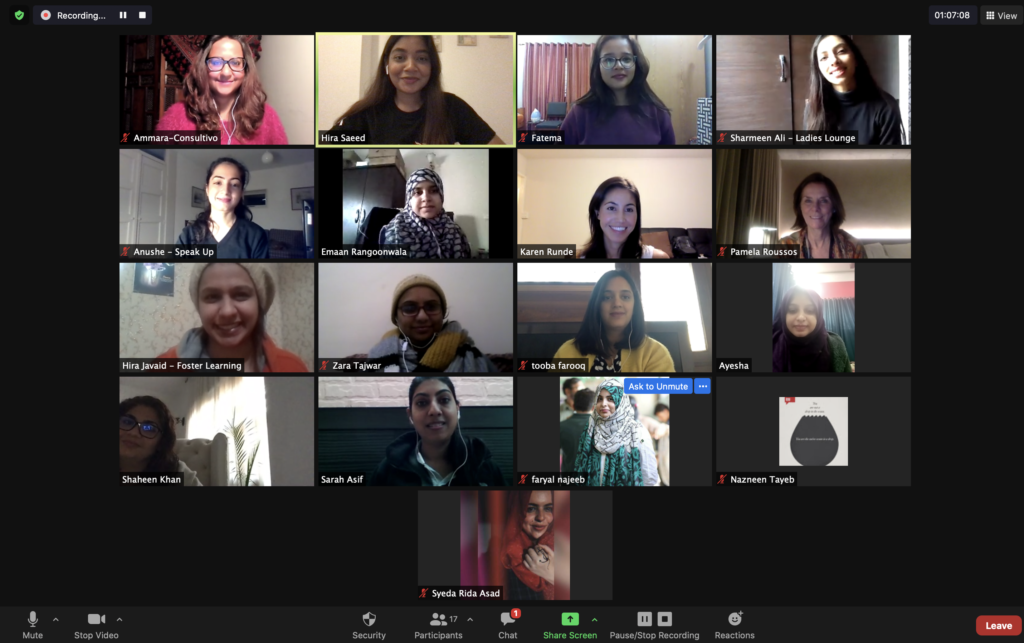 We are excited and so proud to enable and empower these women entrepreneurs on this journey with the accompaniment of our trusted mentors who are advising these women leaders to and increase the impact of their enterprises and make them investment ready.
Read more about each enterprises below:
SDG 1: Eliminate Poverty
Enterprise Name: Dawn Development Organization
Dawn Development organization creates leadership and skill development programs for young girls in the remote areas of Sindh. The organization also supports females to give them space to expand their business. We believe, if women are educated and economically sound, they can take better decision while also remove early marriages from the society also control on the gender based violence.
SDG 3: Good Health and Well-being
Enterprise Name: The Circle
The circle provides therapeutic services and mental wellbeing products. We have divided the target market in to three segments and create services and program tailor-made for them. These are community (wellness centre, online community, products), junior (workshops, support groups, online game) and corporate (therapy, retreats, workshops).
SDG 4: Quality Education
Enterprise Name: Speak Up
Speak Up is a public speaking module designed to help children find their voice. By focusing on body language, vocal variety and thought sequence we help unleash a child's creativity whilst boosting their confidence.
Enterprise Name: Foster Learning
Foster learning is an ed-tech community that provides skills based training to build leadership and entrepreneurial capacity of youth, especially females in far off remote areas to improve employability and entrepreneurial mindset by its 2 months Flagship Training Program, in collaboration with national and international partners i.e., universities, incubation centers, and important stakeholders such as Pakistan Engineering Council.
SDG 5: Gender Equality
Enterprise Name: Ladies Lounge
Ladies Lounge is a cafe/shop exclusively for women to provde safe and conducive environment to women in Pakistan. We are a group of professional, empowered, and devoted women who believe in community development and want to bring a difference in the lives of women by building a safe and conducive environment for them.
SDG 8: Decent Work and Economic Growth
Enterprise Name: Consultivo Pvt Ltd
Consultivo is on a mission to improve resilience and sustainability of women-led startups. We are a very multi-impact, for profit, social enterprise.
1) Through Business Process re engineering solutions we embed sustainable business practices in the start ups while minimizing carbon foot print and directly addressing to 4 UN SDGS (8–12).
2) We also provide flexible, work from home, job opportunities for qualified women accountants who somehow had to quit their careers.
3) We educate and create awareness among women over taxation and the need for having a registered business with proper book-keeping.
4) We help women entrepreneurs manage their businesses by outsourcing their operational matters to us, thus passing on the benefit of economies of scale and an opportunity for them to have access to our bigger pool of diverse and experienced human resource at minimal cost.
Enterprise Name: Abey Khao
Abey Khao belives in the empowerment and capacity development of Deaf youth all over Pakistan through the generation of livelihood / enterprise opportunities. We are an impact-first fast food chain that produces lighthearted food based on family recipes and generates livelihood / enterprise opportunities for members of the Deaf community. Our ambition is to empower those with hearing and speech disabilities; by giving them an opportunity to generate livelihood opportunities for themselves and to engage and converse with society.
Enterprise Name: LaWomen
Lawomen is on a mission to increase economic inclusion of women in legal profession. Post Covid-19 world has witnessed sharp increase in domestic and sexual violence and an alarming decease in economic opportunities for women, therefore, Lawomen is currently making the social and economic spheres of life more inclusive of women and girls of Pakistan through an online platform that will provide easy access to justice to women and economic inclusion to female lawyers whose visibility at the Bar is about 5% of its total strength (SDG 5,8 & 16).
Enterprise Name: Khanz
KHANZ provides underprivileged women with work which they complete in the comfort of their homes to earn a substantial income. KHANZ mission is to help marginalized women increase their income, self-confidence, mobility, skills and family respect. We work on provincial level with all four provinces to project the true colours of Pakistan.
SDG 11: Sustainable Cities and Communities
Enterprise Name: Eco Salvation
Eco-salvation provides eco-friendly, innovative sustainable solutions for solid waste management and construction materials.
SDG 12: Responsible Consumption and Production
Enterprise Name: Code Green
Code Green Pk provides eco friendly , reusable alternatives for single-use products (current range of 25+ products). For some products that are locally manufactured, they hire women from lower income backgrounds to help with the production (fair wages ofc).
Keep following us on social media to stay updated with their progress and achievements.
CaterpillHERs on Facebook
CaterpillHERs on Instagram
CaterpillHERs on Twitter
CaterpillHERs on LinkedIn